In the spring of 2017, a parent approached us to share about a community co-working space in downtown San Jose that he was excited about. We heard more, visited the space (at WeWork Valley Towers), and were intrigued; as part of Vision2020, the school's current strategic plan, we are endeavoring to build more and more opportunities for Hillbrook learners to reach beyond themselves to make a difference in the world. Following on our many explorations of how space and time affect our behaviors and thinking, it struck us that an opportunity to have a space that sort of "belonged" to Hillbrook, but wasn't on our campus, might open up new avenues for realizing this strategic initiative. So like many Hillbrook endeavors, after asking whether a change of space might improve our ability to engage our community and help our students "reach beyond," we took a risk and started a pilot, by getting a small membership at the co-working space in May of 2017.
What intrigued us about WeWork? As members, we suddenly had access to a new space, in the heart of downtown San Jose and within biking and public transportation of our Los Gatos campus; we had access to a new social network of entrepreneurs, community organizers, and small business owners who were eager to connect and learn from each other; we had increased connection, based on new proximity and time-structures, to all kinds of organizations that already overlap with our service-learning, and making experiences, and community connections–places where we serve, where our families and friends work, and where we like to go to learn new tools or explore exhibits.
But how to use these new opportunities? And how to use a space that, in many ways, feels like the opposite of school? In May, we invited all our 6th grade students during advisory one day: "Who might like to go this Friday to a place where entrepreneurs work, and interview some people?" We asked, what might happen if we just started to take students to this new space. And then we did. What happened was that a small handful of self-nominated middle schoolers had what they called "the best field trip ever." And the adults who went along with them found that a surprising number of entrepreneurs and small business owners actually were drawn to come by our table in the middle of the day and be interviewed by our students.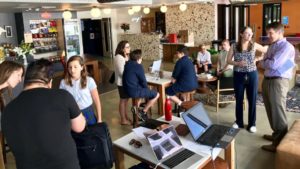 On our first visit with students to WeWork, we learned about Dr. Wang's invention of a "Green Refuge" non-profit tiny house building project for people without homes. We learned from a digital advertiser who launched his company after keeping track of all his ideas by writing down 5-6 ideas in a journal every day. We learned from Erik, who launched several companies by the age of 30, some of which failed quickly, that time is his most valuable resource "because it's not infinite. Money is basically infinite, because you can always raise more but time isn't infinite." (You can listen to our students voices tell more of the story of what they heard and learned this day on our May 2017 podcast here.)
Since then, we've been back to WeWork several times, once with students in the summer, and often with various groups of teachers, staff members and administrators. We've reached out to other schools who are using co-working spaces to extend the reach of their learners beyond the bounds of their campus. And we've started to tell the story to families, teachers and children. As we collaborate and share, we know we'll learn more, allowing us to return over and over to the question that started it all: How does Hillbrook achieve its vision to inspire children to reach beyond themselves to make a difference in the world?