Albert Einstein may have famously claimed that "time is an illusion," but most educators and students would say it's something they're constantly trying to wrangle. This year, eleven teachers and administrators at our school volunteered to serve on a "schedule committee," looking at how we use time at Hillbrook. To start, we each followed one student for an entire day, from drop-off until pick-up. While each of us had experienced observing whole classes on campus, for many of us, it was the first time to focus on just an individual student experience throughout an entire day.
Our findings on the student shadow days were numerous. We were heartened to see the variety of modes of thinking and activity students were a part of. In my own observation, I watched a seventh grader write independently, make a movie collaboratively, observe insect behavior and propose a taxonomy, practice vocabulary, communicate math problem-solving strategies to peers, play gaga ball, meditate silently, throw a great pass in football, and catch and release a spider from advisory– in one day! Through all thirteen of our total student shadow days, we gained insights into the experience of children on our campus and generated needs and questions. After assembling these take-aways and prototyping some schedules focused on meeting various needs, we set out on visits outside Hillbrook.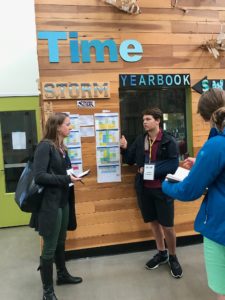 As part of the Vision 2020 plank "Reimagine the Student Experience," we are seeking out schools, around the Bay Area and beyond, that are attempting to treat time differently, perhaps maximizing time spent working on projects, or time spent in cross-grade discussions, or time spent learning on one's own. Each of these schools offers insight into how we might further personalize student learning, or devote more time to cross-disciplinary projects that reach beyond our campus.
About half our team spent two and half days last week first visiting local Khan Lab School, then San Diego's High Tech High and Design 39. On our visits, we learned about the choices each school had made in order to create longer windows of time for their priorities. For example, one school had students working on project time every afternoon, though their students did not take Art, or Music, and had Physical Education only twice per week. Another had each student working at their own pace in math, though those lessons were done almost entirely on computers. We saw school hallways that looked like museums of modern art, and empty hallways at schools that had chosen the blankness in order not to overstimulate children. Each of these schedules and environments prompted our team to reflect on what is most important to the learning journey at Hillbrook and how the structures we create promote those priorities.
At Hillbrook, we know environment is not neutral. Our collection of research studies around classroom setup confirm our intuition that physical space affects how people think and learn, and what they do. And we continue to be curious and deliberate in our designs of space based on our learning goals or how we want users to feel. This year's schedule committee process finds us steeped in the same wonderings and realizations about the less visible ways we create place–those that dictate or differentiate "Science" from "Math" class for example. They're the structures that cause a student to say yesterday to me "I just want to do math things in math class, you know?" And they're up to us to shape.
Stay tuned to find out how we progress through the schedule committee process, visiting more schools along the Northwest in early February…