Click below to play episode in the browser. Listen in iTunes, or download the episode (link at bottom).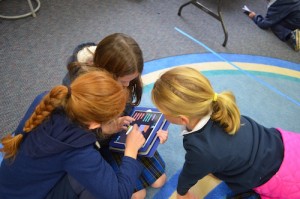 This season, we are exploring how technology in the classroom helps us better individualize our program, and how we can use technology to spark creativity and foster collaboration. Episode one takes us on the iPad's adolescent journey. This relatively new technology is still finding its place in learning. Upcoming episodes will explore mobile inquiry, student-led tech support (like Hillbrook's iPad Doctors), and a look ahead at what's next for technology in the classroom.
Hillbrook School piloted iPads in Fall 2010, months after Apple's announcement. By January 2011, Head of School Mark Silver announced,
In the spirit of propelling our program into the future, we will be calling on the Hillbrook community to support an ambitious effort to implement an iPad program across the school, including take-home iPads for students in grades 6-8, an in-class set for our 5th graders, and several roaming sets for students in our Lower School.
Since then, the App Store has exploded, growing from 200,000 apps to 1.5 million. Integration into the classroom has also developed exponentially. In this episode, you'll hear from Division Head Christina Pak, middle school English teacher Julia Rubin, Tech Coach Kelly Scholten, Literacy Coach Kate Ferguson, and Director of Technology Bill Selak. Resources discussed in the episode are listed below:
Podcast: Play in new window | Download